Well folks I'm going to have a go at some genuinely vintage patterns not retro reissues but genuinely old. They even smell all musty and have been cut out.
I erm.... bit the bullet and entered the vintage contest at sewing pattern review...Eep! Tis scary.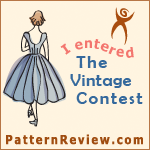 Firstly got to make sure one of the patterns I've picked out fits the criteria. Has to be 1978 or earlier in date.
Choice 1
Choice 2
Choice 3
Those are my 3 options...although my plan B is to do the 1920's house dress from the pattern archive.

The vintage patterns will involve me having to 'grade' the size up as they are 2-3 sizes too small.
I've never done this before so hopefully if its successful will be a new skill learned.